February 8, 2018
West Park Promenade continues Midtown transformation
---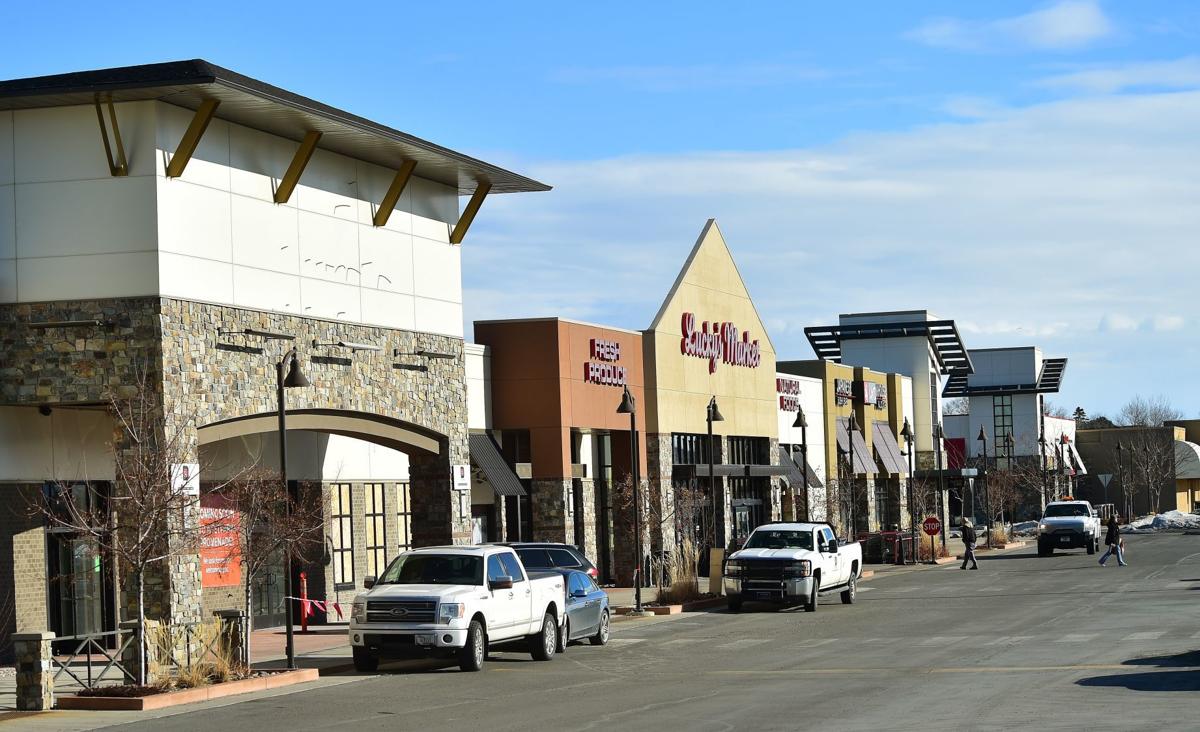 Grand Market, the now-vacant convenience store on the corner of Grand Avenue and 15th Street West, is the eastern-most outpost of what was once West Park Plaza, the 1980s-era shopping mall anchored by a Sears department store.
Sears, a low-slung, windowless brick building, still remains but the plaza has been mostly dismantled, replaced by West Park Promenade, an ambling collection of street-facing shops and restaurants connected by a network of sidewalks.
It's anchored on the west side by Lucky's Market and Gainan's Flowers, Home and Garden, which has moved into the Hastings building and will open next month.
"The vibe is really good," said Rachel Lunn, who manages the property for NAI.
Paul DuCharme, the property broker for the old Grand Market, which is owned by Daniel Stockman, is banking on that good vibe.
The convenience store, which sits across the Sears parking lot, has been on the market for two years without any serious bids. DuCharme hopes to turn that around.
To make the property more attractive, crews last month pulled up the underground fuel tanks and removed the gas pumps and canopy from the property. Now the corner can be converted into some kind of retail or office space, DuCharme said.
"Or a little restaurant," he said. "It's a wonderful corner."
A block down the street from Grand Market is the fast casual Chinese restaurant Panda Express, which sits the at turn-in off Grand Avenue to West Park Promenade. On the other side of the turn-in is the Mexican restaurant Chipotle.
Most of the big-name stores and restaurants that now dot West Park Promenade have arrived in the last three to four years and have helped transform the two blocks along Grand between 15th and 17th into the retail heart of midtown Billings.
Charlie Hamway, the broker who helped lure Gainan's from its longtime downtown location into the Hastings building, has been encouraged by West Park's ability to transform the old Plaza into something commercially viable.
"I see the growth part of it," he said.
Still, he said, it hasn't been easy sailing lately. "The rental market has been tough."
Be it warehouse, retail or commercial space, some property owners in Billings have struggled to fill their empty buildings. Hamway says some of it is the weather — winter is always a little tough — but he also argues that people don't have as much cash on hand, which creates less demand for retail.
"It's hard to get people out," he said.
West Park Promenade still has a handful of vacant store fronts it's working to fill. And then there's DuCharme, at the opposite end of the property, who's hoping that changes to the Grand Market property will bring potential buyers.
Mick Gainan, part-owner of Gainan's Flowers, is excited to be in midtown and believes there's genuine retail momentum in the area. A good chunk of it comes from West Park Promenade's development, he said. Gainan and his wife recently moved from the Yellowstone Country Club neighborhood on the far West End to Avenue C Apartments, directly behind the old Hastings store.
Avenue C Apartments opened in October with the aim of attracting both young professionals and baby boomers who are done taking care of a home and looking to simplify. It's targeted to a higher-end crowd that has more disposable income and wants more luxury-style amenities with the places they rent.
And so Avenue C has a lobby that's large, posh and hotel-like and a first-floor meeting room and reception area that tenets can reserve for parties and other get-togethers. It has a pool in its courtyard and rooftop lounges with grills and furniture, and a club room with billiards, televisions and a wet bar.
The two projects compliment each other — Avenue C Apartments houses potential, well-heeled shoppers and West Park Promenade gives them a place to shop, eat and drink. Gainan feels like his store fits perfectly in the middle of it all.
"It's kinda neat," he said. "It's a neighborhood."
Gainan said the company has been looking to move for a few years, sensing the change in retail as more shoppers move online and stores continually adjust to meet the shifting demands.
It was a big leap for the company to take. Gainan's has been on North 30th Street downtown since 1951, the year its first flower shop opened.
The current downtown store was constructed in 1988 and used repurposed material from other downtown buildings. The cornerstones are sandstone blocks from the home that previously occupied the spot on North 30th. The limestone panels from the original First Bank now adorn the greenhouse. The store's finial, the ornamental work on its rooftop, and the wrought-iron railings in its south atrium, come from Billings' famous Old Commercial Hotel.
The problem is the building is now more store than they need, Gainan said.
"Business is changing so fast," he said.
The new location at West Park Promenade will give the store the efficiency and flexibility Gainan's needs. The store will be more centrally located for customers and it will be easier to access for the numerous semi-truck deliveries Gainan's receives at night.
"We're feeling really positive," he said. "It's a great move for the future of the company."
That feeling has only increased since his move to Avenue C Apartments. As he and his wife have left the country club life behind and adjusted to a "midtown mentality," they've enjoyed having shopping so close and plugging into all the amenities at West Park Promenade.
"We sure feel it," he said with a laugh.
July 25, 2022
Groundbreaking for Aurora Apartments in Great Falls
---
NEWS GREAT FALLS NEWS Groundbreaking for Aurora Apartments in Great Falls GREAT FALLS — A groundbreaking ceremony was held on Tuesday, June 28, 2022, for the Aurora Apartments, which will be used to house students from Touro College Montana, its neighboring medical school. The project is a collaboration between Farran Realty Partners and Benefis Health System. The apartments will be located at the corner of 18th Avenue South and 28th Street South, across the street from Central Catholic High School. Pat Corrick, managing director for Farran Realty Partners, said, "We're here for the groundbreaking to celebrate the 216-unit apartment project. It's going in...
May 9, 2022
CARDINAL GROUP MANAGEMENT AWARDED MANAGEMENT OF ARC
---
BY CARDINAL GROUP APRIL 27, 2022 DENVER, CO – April 27, 2022 – Cardinal Group Management (CGM), an industry leader in conventional, student, and affordable housing property management, has been selected to manage Arc, a purpose-built 216-unit multifamily community in Great Falls, Montana. The community is currently under construction and once completed, Arc will be a Class A multifamily community. Arc is a much-needed addition to the Great Falls community and will be the second conventional multifamily complex in the area. The six-building community will provide new housing stock in the Great Falls area and provide diversity in homes available...